Budgie Names
It can be hard to name any new animal, and finding the perfect budgie name is no different. There are a few different ways to go but generally budgie names aren't too adventurous (such as race horse names) and usually reflect some trait about the Budgie. Sometimes it is better to get to know your Budgie a little before giving him/her a name, this way you can choose a name that better describes their personality, remember not all budgies are the same!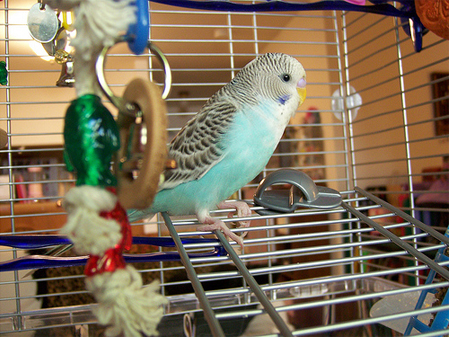 Budgie Name ideas: Here are a few name ideas for your budgie, colour can play a big part in naming as it's often the first thing people notice when they get a new budgie (before they know it's personality). These are just some random Budgie names I have come up with, but they should get the ball rolling for you!
Pickle (Green budgies)
Lemon (Yellow Budgies)
Sunshine
Sir Pecks a lot
Tweety Pie
Churples
Shadow
Alfie
Cookie
Snow Flake
Hedwig (Albino Budgies and Harry Potter fans)
Kissy
Milly (Millet)
Seedy
Doc
Puffy
Clicker
Elvis (Hey, it may match the personality!)
Beak Beard, master of the feathers (An example of a longer name)
Bird Newton
These are just a few ideas that could match your Budgies personality.

Nicknames: Nick names tend to form from your original name anyway, and they can be fun particularly when you are teaching your bird to say their own name. "Hello Norbert" didn't have the same flow as "Hello Norby" and so my Budgies name changed over time and now he responds to both Norbert and Norby.

The world is your oyster when it comes to naming your new budgie! I generally prefer Budgies with short names but it's a matter of what fits you and your Budgie's personalities. Let your imagination run wild and think of other generic pet names that you always liked maybe something mischievous, or acrobatic, something that captures a little bit of what your Budgie is all about.