Budgie Breeding
Parakeet breeding can be a very fun and rewarding experience! Some may think that breeding budgies would be a very difficult and time consuming feat, but after a bit of reading you will see that it is very possible to do at home with minimal time and effort. With some practice and knowhow you can even start breeding exhibition budgies for show, or even start supplying local pet shops with baby budgies! Nothing like combining your hobby with making money!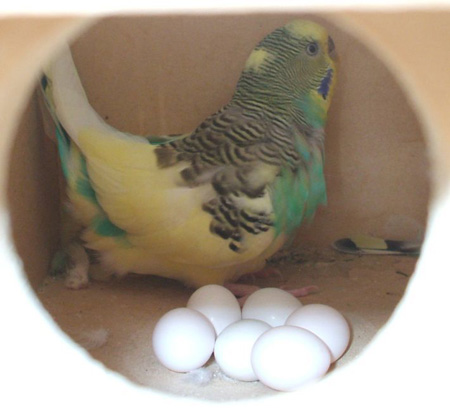 A budgie in a breeding box with her eggs
Budgie breeding in the wild: Budgies are opportunistic breeders in the wild and have been known to respond to rain and seed conditions; Breeding times differ between north and south Australia with breeding usually taking place between June and September in the north and between August and January in the south. Budgies are naturally "colony nesters", which basically means they nest in close quarters, although each has their own place. The nest itself can be anything from a fence post, a hole in a tree or even a log lying on the ground, budgies don't discriminate too much as long as there is a small secure space for them to lay their eggs.

Budgie breeding supplies: The good news is that it is quite easy to breed parakeets, but we can help them along with a few supplies:
Nesting box
Bedding – untreated cedar or pine shavings are best
Barry white CD (optional to set the mood)
Make sure you have a good breeding cage set up which offers your budgies plenty of entertainment as well as giving them a good diet complete with fresh greens. It is very important to have a piece of cuttlebone and also a mineral block in the breeding cage. Diet can be a big factor in successful budgie breeding so it's worth having a good set up. Ideally your nesting box will be positioned next to the cage.

Choosing mates: Most problems associated with budgie breeding are actually genetic problems. Before choosing your mating couple, be sure to check our healthy budgie guide to check that your mates are well and healthy and will produce good strong chicks. If you are unsure or have doubts about a particular bird but still wish to use him/her for breeding a vet check up can give you your answer!
Parakeet Breeding can be a really fun and exciting hobby that can be as complex or as simple as you want it to be. If you get into the habit of breeding lots of budgies then it is a good idea to start a log book which keeps track of each birds age, their genealogy and any other notes you think would be good to keep. And there you have it, a basic budgie breeding guide. As you grow more confident and more knowledgeable there are many areas of this guide you can expand and refine to find what works best for you and your budgies!